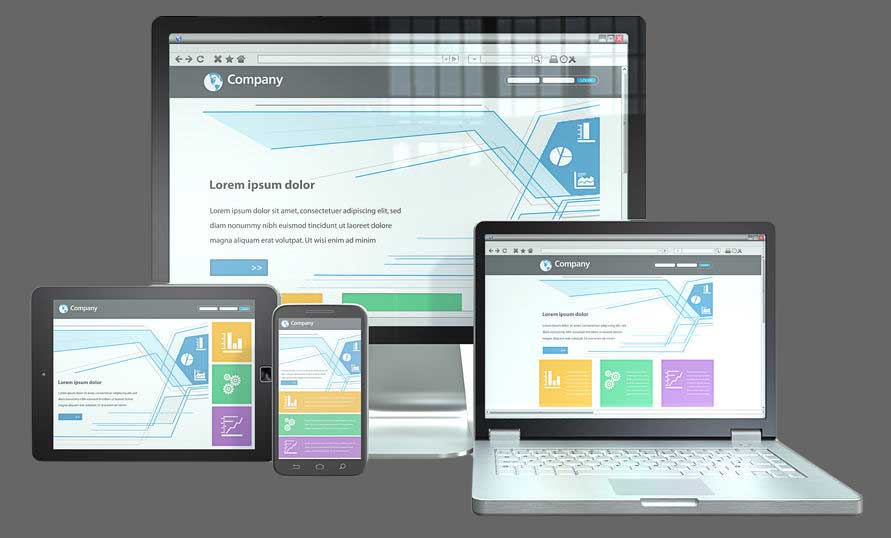 Our Solutions
WEB DESIGN
We don't use templates!!!
Every business's goals are unique – there is no one-size-fits-all solution out there. Specific goals require specific needs, which are rarely fulfilled with a template. Our designs are made from scratch to achieve the exact site that you've envisioned. We customize the website theme based on your business logo colors. We will give your small business a professional look. A job of a designer is to carefully consider the needs of the client and with their input create a solution.
RESPONSIVE DESIGN
Responsive web design is the most important feature that you can add to your website.
Our websites are designed with responsive layouts that can gracefully adapt to the growing number of mobile devices with their relatively small screens. A desktop can display a website design with multiple columns of content while a smartphone can have the same content shown in a single column with text and images appropriately sized to be read on that smaller display.
WEBHOSTING
I am personally using  FatCow as my web hosting provider.
FatCow is one of the most popular affordable hosting providers for individuals and small businesses.
When it comes to value and affordability Fat Cow came out on top among their competitors. They provide a bank of services, including a free domain name, free set-up fees,  unlimited disk and bandwidth space, and unlimited email accounts. FatCow's support engineers are available to help you 24/7 via chat, phone and email.
WORDPRESS
My designs utilize WordPress, which can be used:
as fully functioning Content Management System or
as a blogging site (allowing visitors to leave comments and messages to each other)
Once your website is up and running, simply logging into your site you will be able to update your pages, posts and make any changes you desire.
GRAPHIC DESIGN
Your logo is crucial to the success of your business and is one of the most important images associated with a website and with a company. The logo is a graphic representation of the company, should be unique and memorable and designed professionally. What makes the design so important is that it creates an image, that when seen is unique to your business and makes clients recognize your company automatically. We design your logo using graphic software such as Adobe Illustrator and Adobe Photoshop.
BASIC SEO
(SEARCH ENGINE OPTIMIZATION)
Search Engine Optimization (SEO) enables visitors to find your website when looking for your product or service on search engines such as Google, Yahoo or Bing. We optimize your website to help your business achieve higher ranking on popular search engines.
What Is Important To Search Engines?
Relevant Results To A Searcher's Query
The Quality of Your Content
User Experience – Easy Navigation
Cross-Device Compatibility – Responsive Design
Internal Linking
Meta Descriptions And Title Tags
Properly Tagged Images
Social Media Promotion
More advanced SEO services are handled by the SEO professionals, who specialize in Search Engine Optimization and provide their services for a monthly fee.
WEBSITE MAINTENANCE
Basic Website Maintenance
Your website design includes free Basic Website Maintenance for 30 days from the date your website became active on your server. This includes any minor changes to your website pages such as adding text, minor changes to paragraphs, inserting new links (up to 1/2 hour per page).
More advanced changes (complete updates, additional pages, new navigation structure, new images and video) will require additional cost based on a rate of $75/hour.
Technical Website Maintenance $50/month
Security is the most important reason why you should keep your WordPress website up to date. We offer regular:
WordPress Core Updates
Plugins And Themes Updates (As needed)
Monthly Security Scans
Files and Database Backups
30 minutes of Basic Website Maintenance per month.